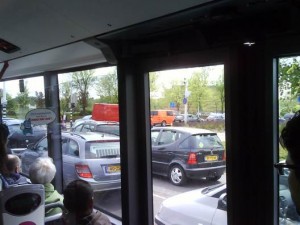 We are not against the car, but only see a smaller role for it as electric car and taxi. And then only for those cases where a car is really applicable.
Mobility that is primarily based on the car, is from the viewpoint of environmental, health, cost, space, sustainability, parking and congestion problems undesirable and unsustainable.
Even carmaker Ford admits in the documentary VPRO Tegenlicht broadcast "Hoe raken we de auto kwijt?" (How do we get rid of the car?) that on the basis of parking space alone the "car-centred-thinking" is a dead-end street.
Hence, the car plays only a very limited role in our vision. We want to offer motorists an alternative, as that is so often missing, according to them. Luckily, the popularity of the car does give us information about what people want and expect from mobility. Therefore we have incorporated ease of use, availability, comfort, and for some even status symbolism, in our vision as an alternative to the car and the traffic-poverty.